Before I even had the chance to post pictures of the new collection banners I started getting requests for hair and makeup tutorials on each style. I decided to start with the Simmer Town makeup application since that's the one ladies have been requesting the most so far. The pictures are a preview of the end result. Beneath the video is a list of products I used in this video.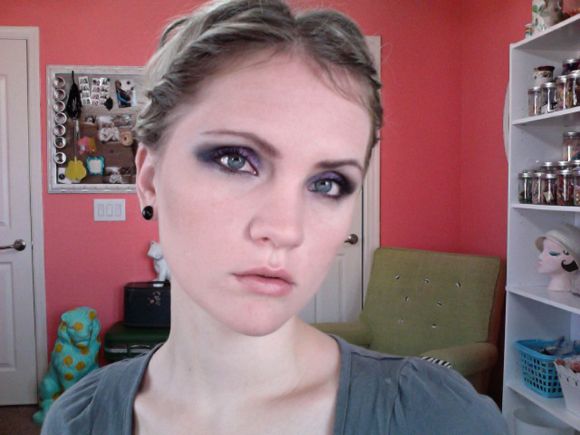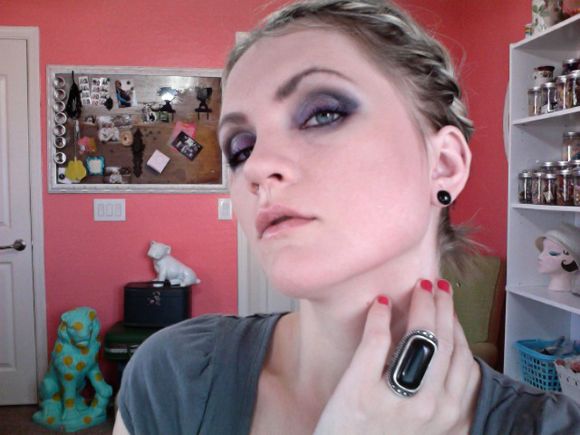 -Maybelline Cover Stick, Corrector Concealer (for red blemishes or dark circles)
- Smashbox Photo Finish Color Correcting Primer (Adjust)
- Mac Studio Finish Concealer w/ Bare Minerals Concealer Brush
-Almay Smart Shade, Smart Balance liquid foundation w/ Saphora Professional Stippling Brush
-Mac Shadebender eye shadow primer
- Urban Decay Alice in Wonderland Palette W/ Two Faced Teddy Bear Hair Brushes
Colors:

Underland (purple)
Queen (Magenta)
Mushroom (Medium Gray)
Jabberwocky (Black)
-Urban Decay Glide on Eye Pencil (Black)
- Saphora Small Eye Shader Blending Blush (eyebrows & eyeliner)
- Bare Minerals Blush/Bronzer w Two Faced Teddy Bear Hair Blush Brush
-Mac Zoom Lash Black Mascara
-Smashbox Lip Gloss Palette (Nude)
If you are wondering what fabulous color I'm sporting on my nails it's from
Hopscotch Kids
(non toxic) Water Colors. The color is Bubble Gum, Bubble Gum in a dish and I am doing a Hopscotch review and giveaway really soon!!!!
I think that was everything. Hope you use it, hope you you like it!