Lots of you inquire about the products I love and use so I thought that from now on it would be fun to spotlight and feature my favorite products that I use regularly.

Try not to be grossed out by my close up pictures when I talk about this product that is completely new to me. I am so incredibly excited to post about it, excited enough to share embarrassing graphic pictures of my makeup free face and gigantic exposed pores. I have large and unattractive pores that I inherited from genetics. Last time I was at Sephora I was testing several different products that would conceal my pores when I was introduced to Dr. Brandt Pores No More pore refiner. I was so impressed I bought it right then and didn't even think to look at the price! $45 Ouch, but oh so worth it! Pores No More doubles as a filler for your pores as well as a primer to even out skin tone and texture. It is so divinely silky and light it's absolutely decadent on your skin. I Love it because I can truly put a light layer on as a quick cover up and still look suitable for the public when I don't have time to apply foundation or makeup. The serum is concentrate with a hint of neutral color and a very tiny bit goes a very long way so one bottle will be sure to last an exceptionally long time. You can see in the close up of the before and after pictures that the product really stands on it's own. I don't have any concealer or makeup on in either picture and I didn't touch up the photos but the improvement is so dramatic!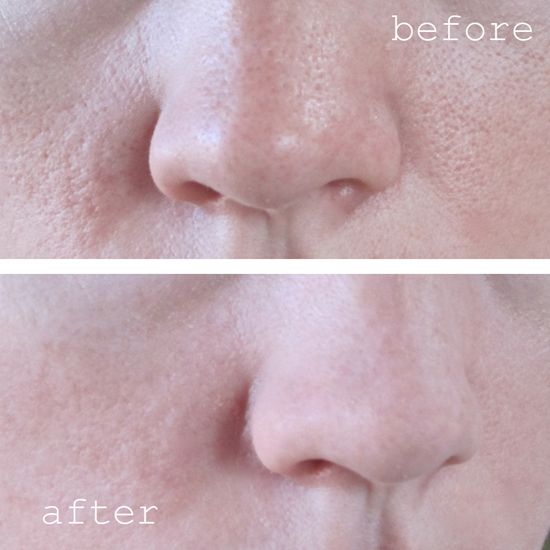 I was also given a free sample of Dr. Brandt's Pore No More Vacuum Cleaner which is an intense mask like serum you apply over your pores. After you apply it you let it sit for 5-10 minutes while it dries and sucks out all the icky gunk from your pores and then you remove with hot water or a warm wet towel. I was impressed by the Vacuum Cleaner serum but probably won't opt to get it until I can budget for it ;)

I know this isn't the most glamorous product I could feature but for me my pores are such an insecurity that this product has instantly become a favorite and of course a necessity!